Rome, Italy
August 10, 2009
July 1 – Rome Cavalieri
As previously mentioned, my journey from Cinque Terre to Rome was quite hectic but we eventually arrived in Rome at around 15:00. Since we were going to spend the next two days checking out the city, we planned to turn the afternoon into a relaxing retreat at our hotel, Rome Cavalieri The Waldorf=Astoria Collection. The first thing we did after getting off the train was heading to the tourist information counter located near platform 24 in Termini to buy Roma passes. Roma passes allow you to skip lines at tourist attractions, enter the first two attractions for free, and give you three days of unlimited metro and bus rides within Rome.
I vaguely remembered that the hotel provided a shuttle bus service to and from Piazza Barberini. So we took the metro from Termini to Barberini (only two stops). When we got there, we couldn't find the shuttle bus sign so I gave the hotel a call. They said the next shuttle bus going back to the hotel was at 16:00 and would be leaving from the front of Hotel Bernini Bristol. At 16:00, the shuttle came. It was a grey van with the hotel logo on the sides; would be really hard to spot it from a distance. The ride took about 30 minutes and gave us a tour of Via Vittorio Veneto and the Villa Borghese park.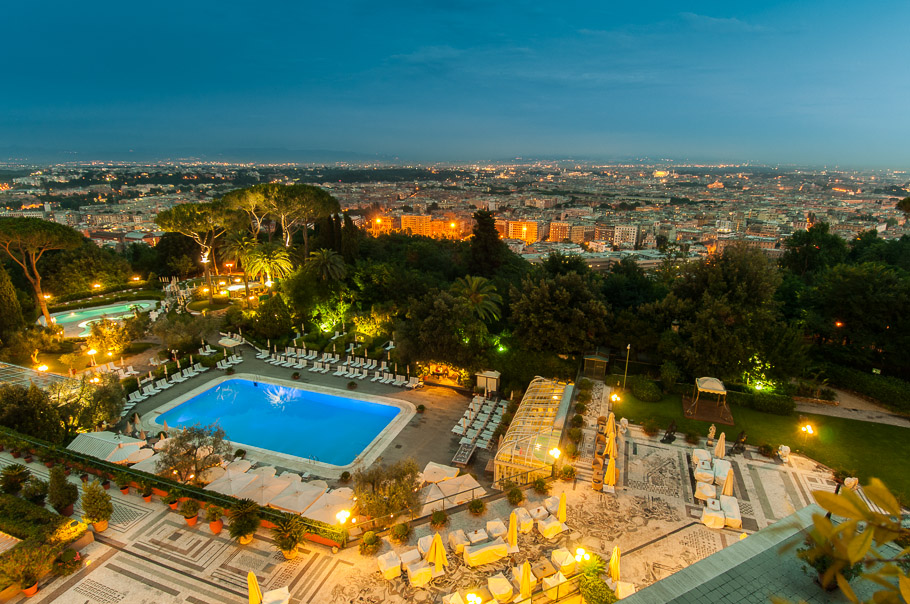 The hotel sits on a hill in the northwest part of Rome overlooking the city. We only stayed for one night using Hilton points just to check it out. As a Hilton Diamond member, we were given access to the Imperial Club lounge on the 7th floor. At the Imperial Club lounge, they had drinks and light buffet changing 5 times a day. The balcony had a breathtaking views of historic Rome. We practically sat there through the entire afternoon thunderstorm and evening enjoying the food and views and making plans for the next two days. The room was a regular deluxe room featuring a king bed, gigantic bathroom with a gold plated shower knob, and a balcony with the same views as the Imperial Club. Just kidding about the gold plated thing. It was simply an amazing experience. We wish we could have arrived earlier and/or stayed longer.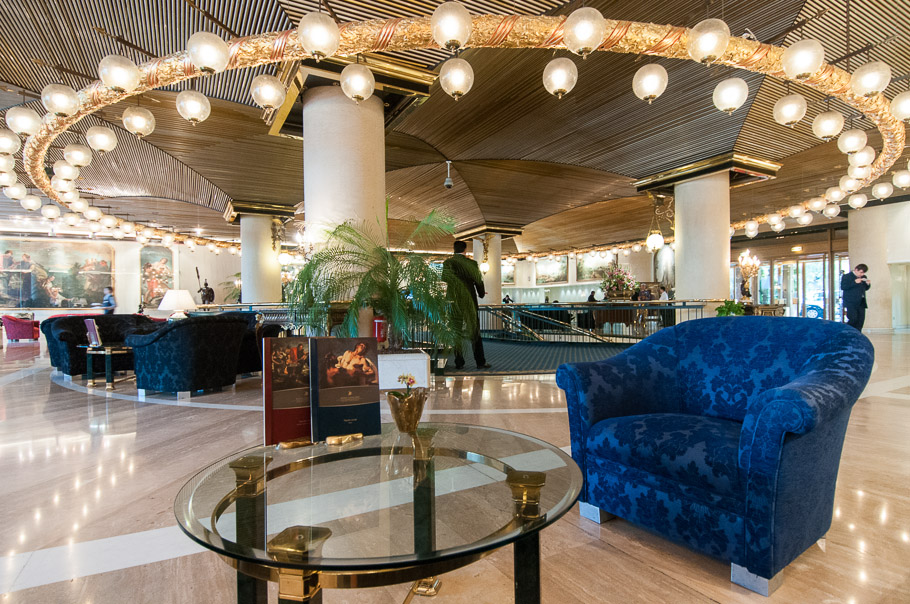 July 2 – Ancient Rome, Spanish Steps, Pantheon Neighborhood
The breakfast was unbelievable. It was way better than the buffet at Hilton Arc de Triomphe. They had a jam table with like 30 different kinds of jams, a milk table with 10 kinds of milk, 5 kinds of pies, 5 kinds of cakes, fish, Japanese food, etc. I had photos on my iPhone but accidentally deleted all of them while upgrading to the 3.0 software. (Note to self: always always always backup!) We only spent 20 minutes for breakfast because we wanted to catch the 9:30 shuttle to town. Instead we should have spent 2 hours enjoying it. That was one of the biggest mistakes we made. Oh well, maybe next time.
So we checked out from the hotel and left at around 9:30. This time the shuttle bus was like one of those tour buses. People on the bus were looking at us like aliens because we were carrying huge bags I guess. The bus dropped us off the the same spot as it picked us up the day before. We then headed to another hotel that we were going to be staying for the next two nights to check in and drop off our bags before exploring the city. The hotel was in the Pantheon neighborhood so we decided to walk there because it seemed to be the faster way. We walked about 1.5 miles in about 20 minutes with bags.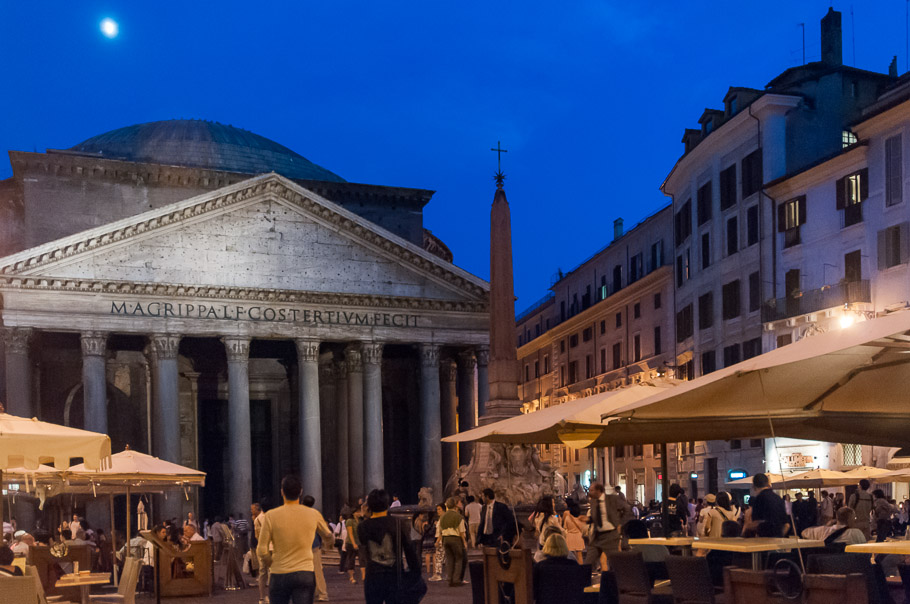 The hotel was right on Via del Pantheon which means it was literally right by the Pantheon. We could see the Pantheon big and clear from the front gate. When we got there, we rang the bell and a lady came down to greet us. That kind of told us that it wasn't really a hotel but was more like a B&B. As we walked into the building, we found that it had been under construction for some time and there were ladders, construction equipment, etc. set up everywhere from the ground to top floor. We were okay with it until we saw the room she gave us. It was probably a high ceiling floor; they cut it in half and stacked two rooms together. Look at where the window was from the picture below. The A/C unit routinely made a cracking sound every 15 minutes and woke me up several times. The bed probably had bugs because we woke up in the morning with bite marks on our arms and legs.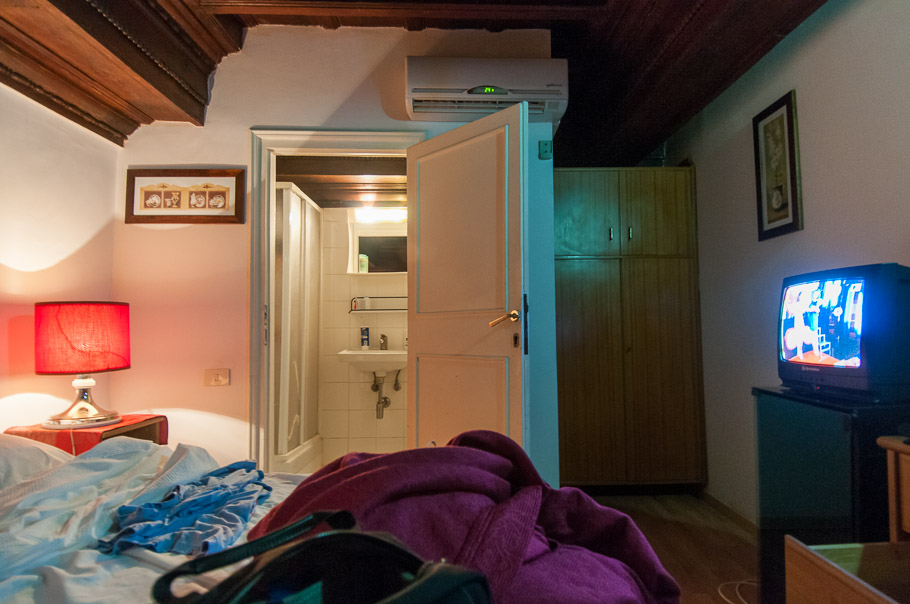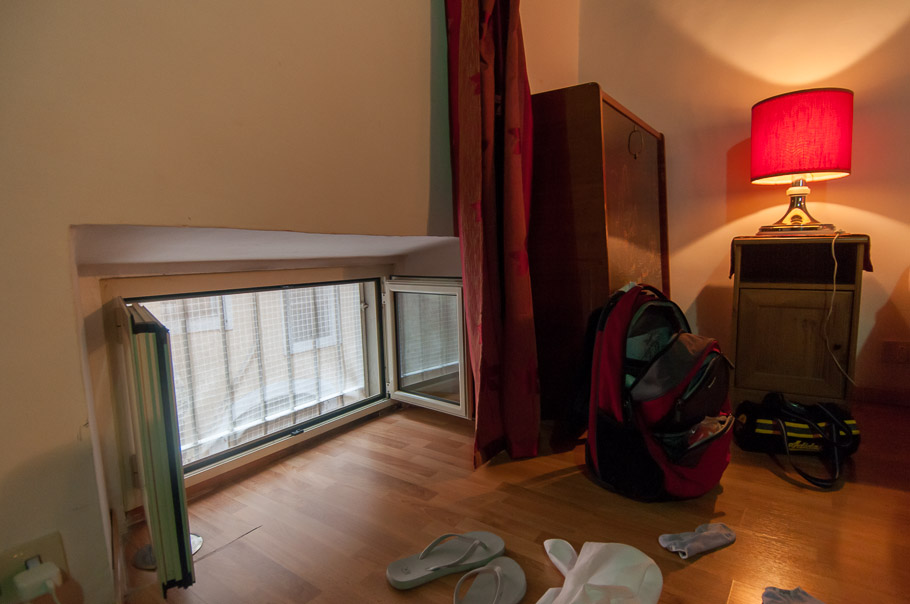 However, I have to say that the worst was the bathroom. It was nasty; so nasty that I was afraid of taking showers during those 2-3 days (but I did shower anyway). The doors in the shower stall were broken. The panels in the doors were broken as well. To make the matter worse, the height from the stall floor to the rotten wooden ceiling was maybe 5'11". So if you are taller than 5'8″, you wouldn't be able to take a shower standing up straight. Also the stall was so small that I hit the surrounding panels almost every time when moving my arms around. So seriously, from a scale of 1 to 10, I give it a zero (0) … except for the location. I give it a 10 for the location. The Pantheon neighborhood is known as one of the best places to stay in Rome and this hotel is right by the square. It's lively at night with hundreds of restaurants, bars, and minimarts. It's 3 blocks from Largo Argentina, which is a big hub for buses including the 64 and 40 lines that run between Vatican City and Termini.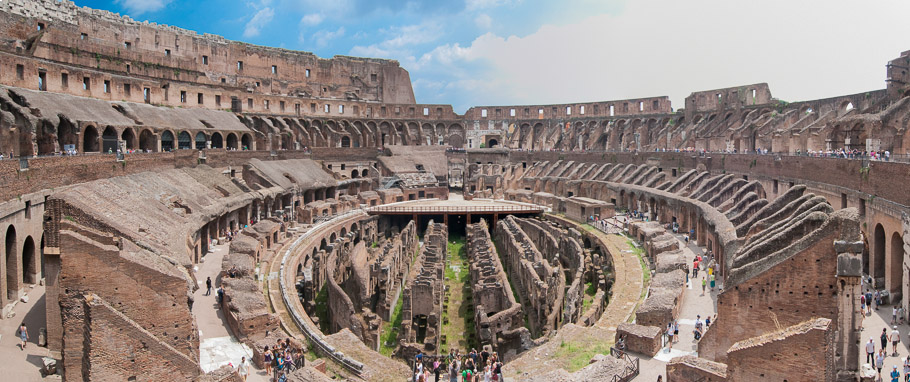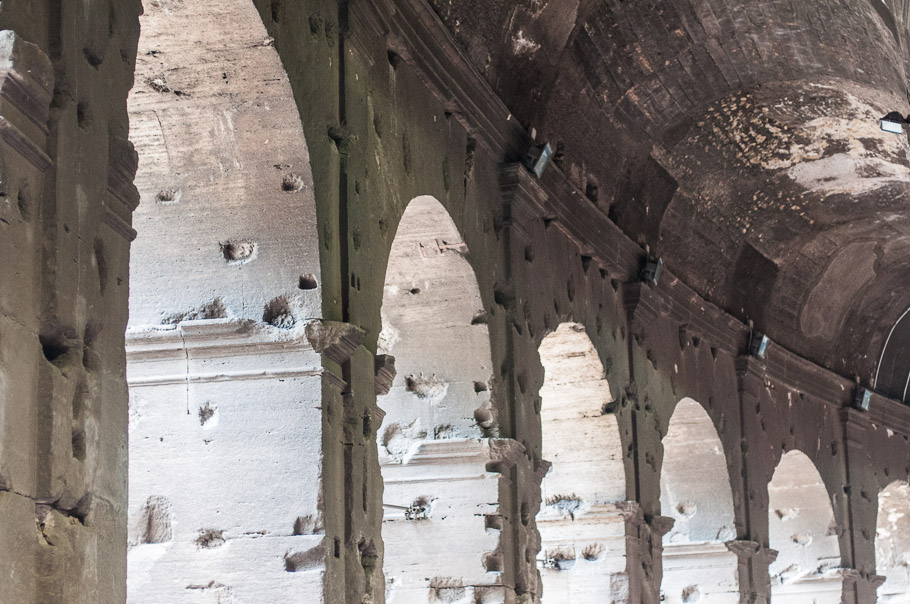 After we had dropped off our bags at the hotel, we decided to do the reverse of Rick Steve's Caesar Shuffle, which is a self-guided walk from the Colosseum to the Monument of Victor Emmanuel II. So with the reverse, after exploring the Pantheon, we walked to the Victor Emmanuel II monument, which took about 10 minutes. We checked out the museum inside but didn't go up to the roof. Next we walked around Capitoline Hill before heading over to the Colosseum. We did the Colosseum before the Roman Forum because it was around noon so it was extremely hot in the low 90s actually. Because of the heat, we walked past the Forum to the Colosseum for some shades.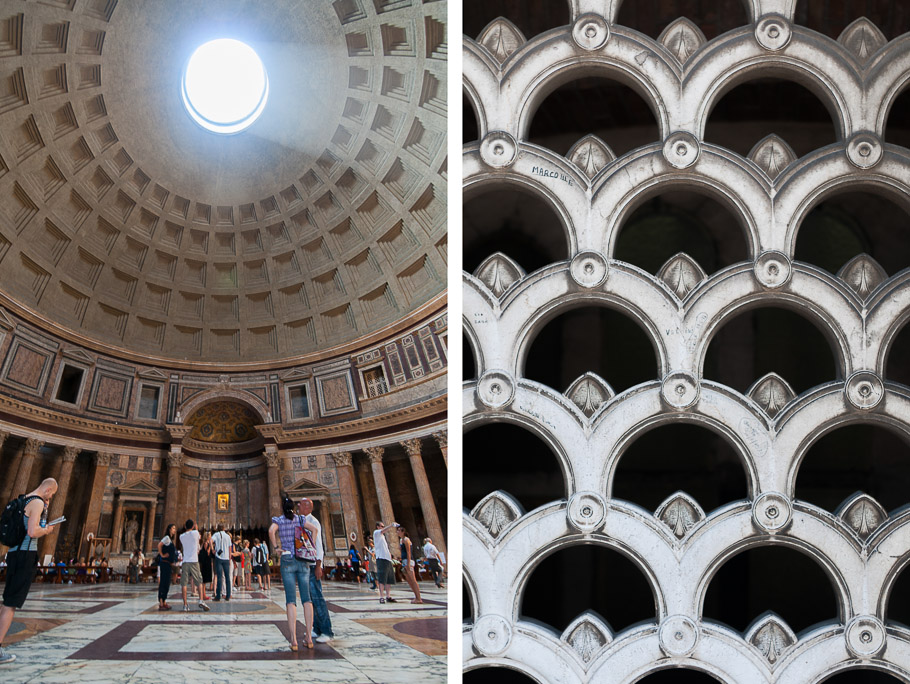 We did the Colosseum and grabbed a bite to eat from one of those mobile street vendors. They were close and convenient but, man, they ripped people off like anything. €4 for a soda and also €4 for a hotdog. Actually, one of the buyers started complaining and yelling. We just got our food and found a shade to sit down and eat. Didn't want to walk 5-10 blocks to find a restaurant. What we should have done was that we should have eaten before coming or packed lunch.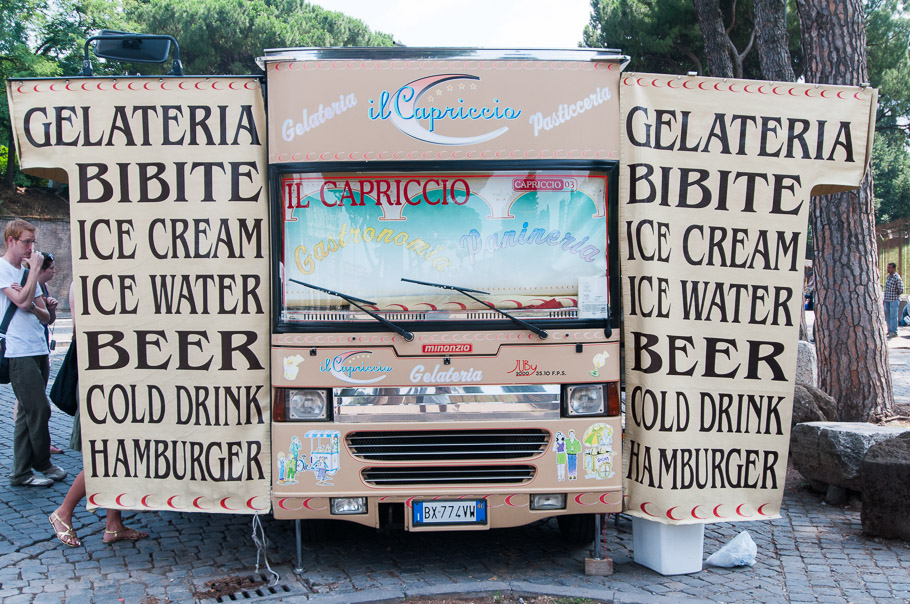 After lunch, we walked around the Roman forum before taking the metro to Piazza del Popolo. At Piazza del Popolo, we met this guy (Indian?) who tried to sell us roses. Well actually, he was trying to put roses in my wife's hands but she moved away. He freaked out or something and started making angry faces. We just walked away and began window shopping along Via del Corso, which supposedly has the best shopping (and some of the most expensive) in Rome. We walked until we reached the Spanish Steps. Sat on the steps for a while but had to give up because it was so hot as we were facing the sun directly. We left and headed to the Trevi Fountain and then went back to the hotel on foot—probably a 30 minute walk. As soon as we reached the Pantheon, the rain starting pouring hard. We spent a few hours in the room waiting for the rain to stop before heading back out again for dinner.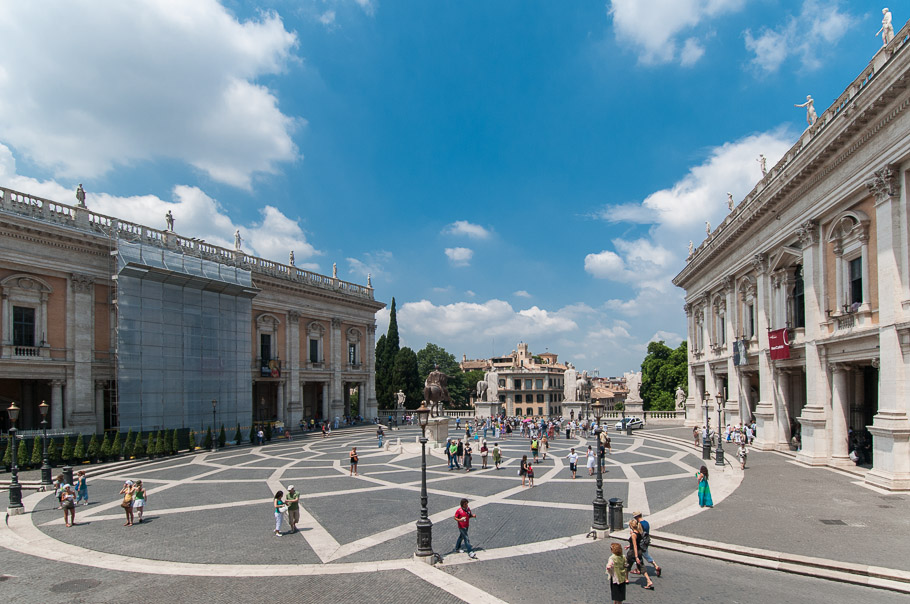 OK dinner was pretty bad. With tons of good looking restaurants around the Pantheon, I don't know how we managed to eat where we ate. I don't remember the name but it was was awful compared to everything we had eaten thus far in Italy. We ordered a pizza and some seafood pasta. They forgot to put salami on the pizza so they guy just cut up some cold salami and threw the pieces on the pizza. The seafood pasta smelt pretty bad and shrimps were tiny. It must have been one of those tourist traps.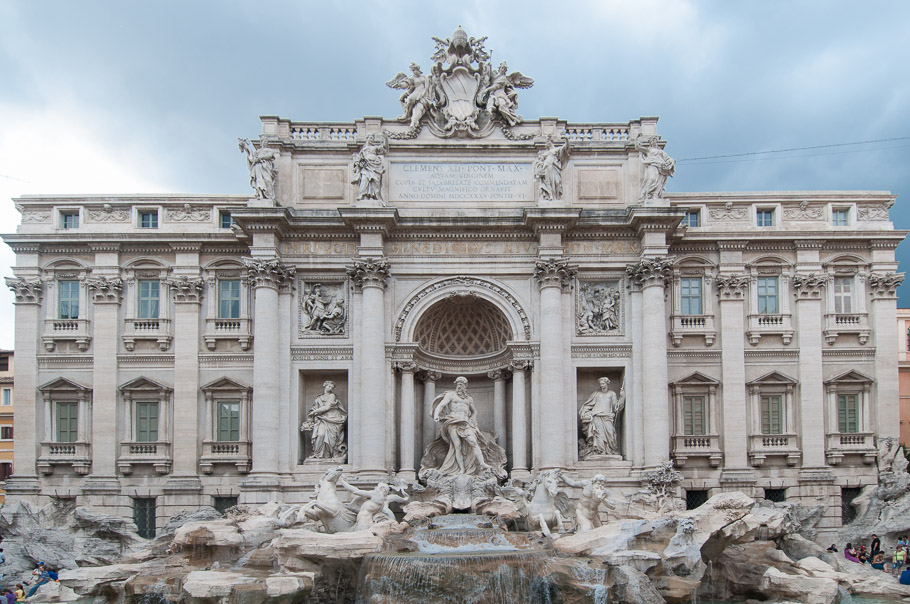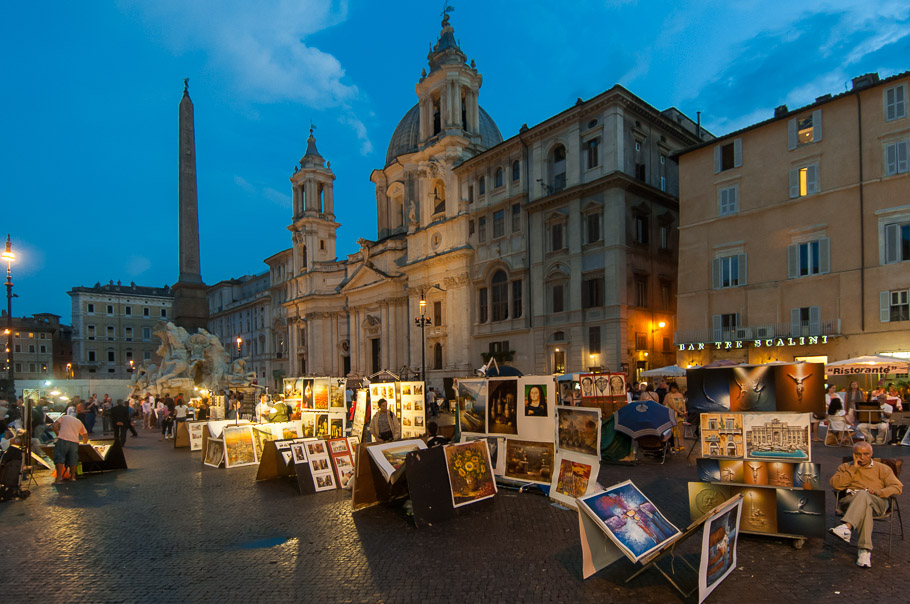 After dinner, we got some gelato and walked to Piazza Navona for exercise. There were a lot of performances and artists showing their work. That night we went to sleep as soon as we got back to room and hoped to get up and out asap.
July 3 – Vatican Museum, St. Peter's Basilica, National Museum of Rome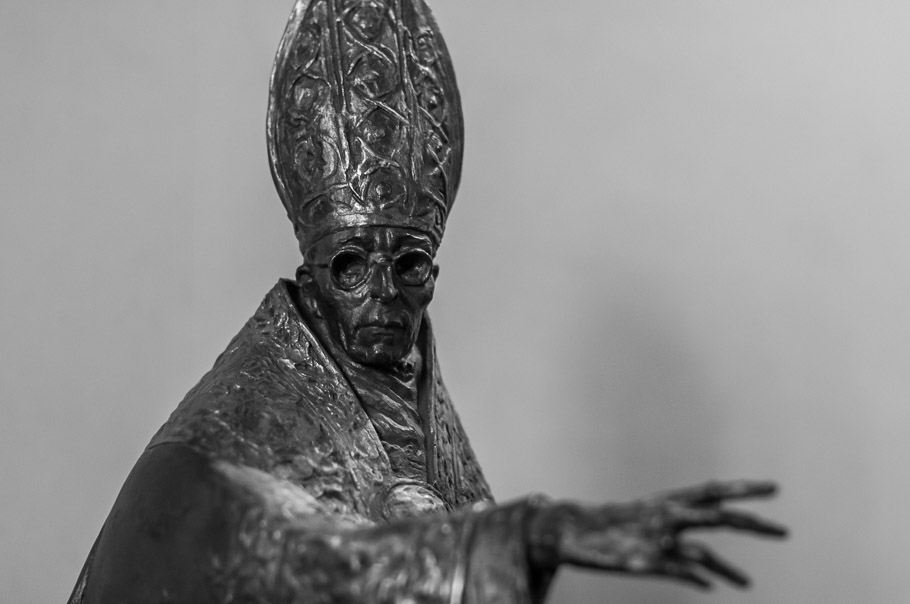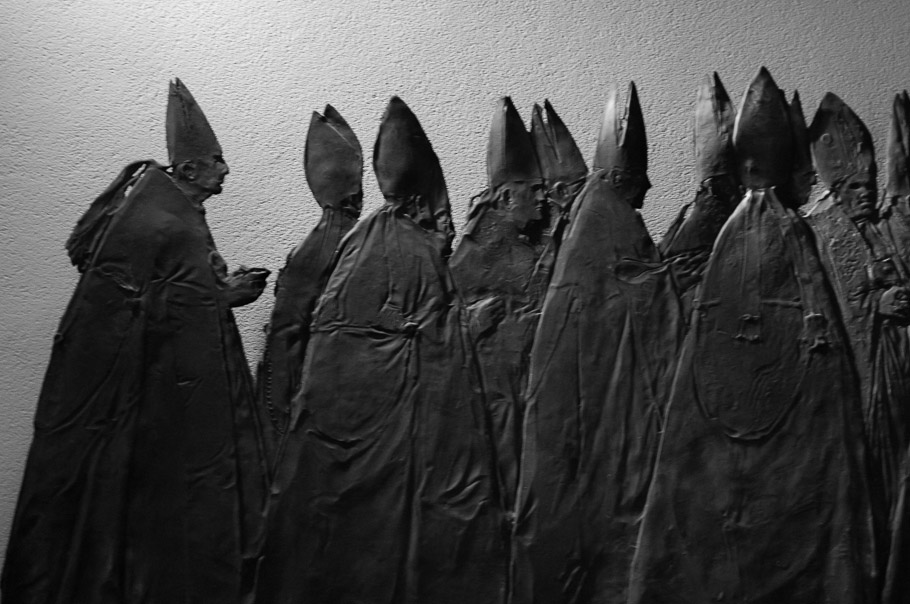 I probably haven't mentioned this, but the hotel provided simple breakfast like coffee, croissant, toast, etc. So we had breakfast there before heading over to the Vatican museum. From the Pantheon, it was very easy; we took a #40 bus from Largo Argentina, which was three blocks to the south of where the hotel was. Bus #40 is the express version of #64 so it stops less frequently. It is widely know that #64 buses can get very crowded. So watch out for pickpockets. The bus took us all the way to the Vatican City area. We still needed to walk another 10 minutes to get to the Vatican museum entrance.
We got to the museum around 10:30 and the line was just about to start getting long. We stood in line for about 30 minutes (luckily there were shades) before we got to go inside the building. It was muggy inside the museum. They probably just opened the windows instead of turning on AC units. There were very interesting paintings, sculptures, etc. However, after a while things started to look the same. To get to the Sistine Chapel, it was quite a long walk. We pretty much had to walk past every room.
The Sistine Chapel room was probably the biggest and most crowded room. They didn't turn on artificial lights so the room was quite dark. It was hard to enjoy the paintings on the wall and ceiling because there were people everywhere pushing you left and right. We didn't see a single available seat along the sides of the room. We stayed for a little bit before leaving because it was so muggy and we felt we needed some fresh air. I truly believe that the experience must be much better during non-summer months.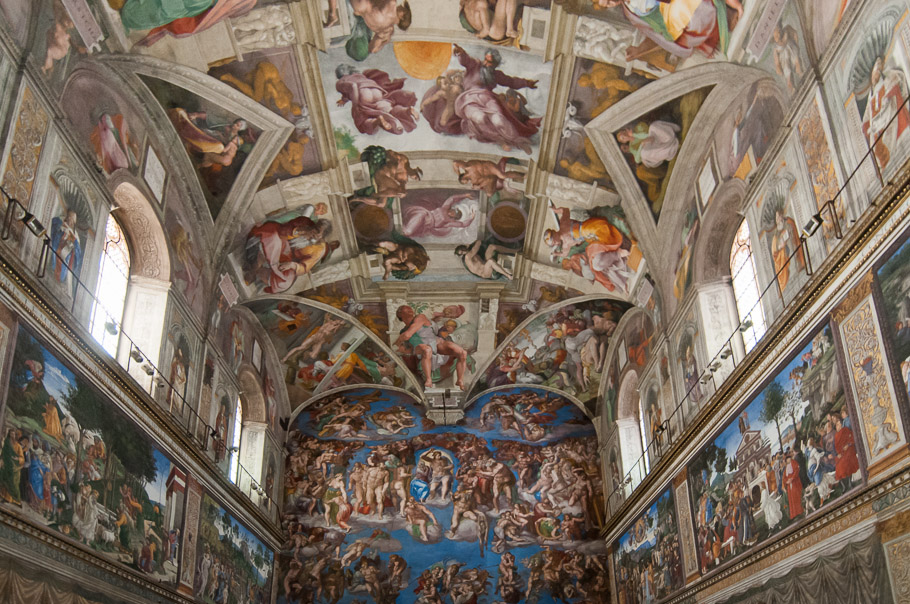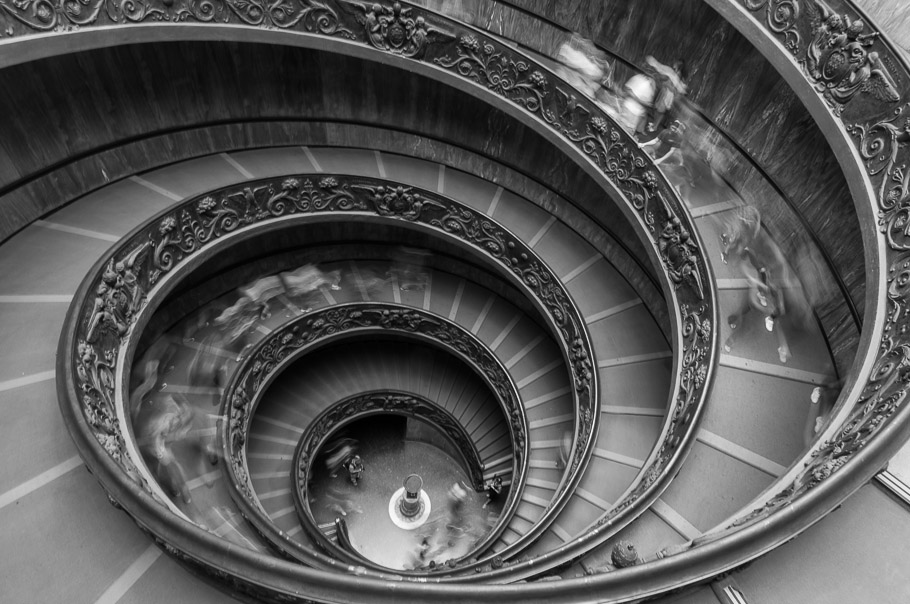 We had lunch at the Vatican museum cafeteria. The food was alright but the portions were a little small. After lunch, we took a walk to St. Peter's Square. It was actually right next to the museum but on the opposite side of where we exited the building. The square was a huge open space in front of St. Peter's Basilica. To get into the basilica, we had to go through metal detectors and people checking our clothes. There were quite a number of women who weren't allowed to go inside because of their inappropriate clothing such as offensive t-shirts, tank tops, short skirts, etc.

St. Peter's Basilica has to be the biggest church in the world. That's probably a fact but we didn't know it until we saw with our own eyes. It was so huge that it took us over 30 minutes to walk around the whole thing. There were also several little chambers to explore. You could climb up to the top of the basilica dome for a fee but we didn't do it.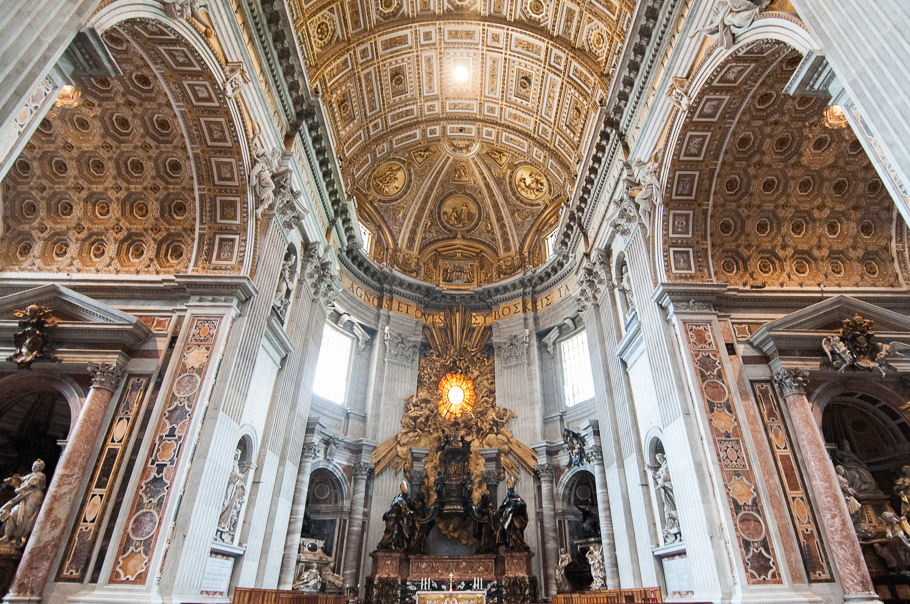 After we had finished with St. Peter's Basilica, we took a #40 bus all the way across town to Termini. At Termini, we bought Leonardo Express tickets (train to the Rome Fiumicino airport) for our departure the following day. Next we walked over to the National Museum of Rome, which was just across the street from Termini. It was practically a ghost town around 14:00. I don't know how much they usually charge for admission because we used had Roma passes, but I wouldn't pay more than €7 to get in. Seriously, in my opinion, the National Museum of Rome doesn't match up to the other big museums in Europe. If you have been to the British Museum, the Louvre, or the Vatican Museum on your tip, I would recommend skipping this one unless you are really into museums, ancient Rome, or just want to spend some time in a cool and quiet place. (Yes, this museum has air conditioning!)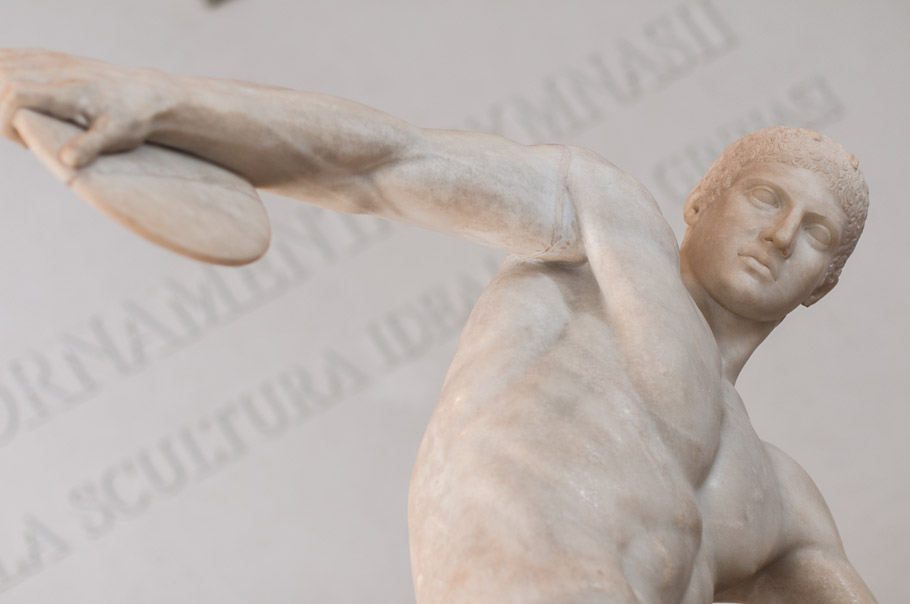 We really wanted to sit down at a restaurant after we were done with the museum. So I looked up some Irish pubs in the area on my iPhone. Why Irish pub? So that we could sit, have a beer and catch up with some Wimbledon actions. Anyway, the closest one that came up was Mulligans Irish Pub on Via Del Boschetto. So we walked 10-20 blocks from Termini. When we got there, we found that it was closed! There were big padlock, chains and everything on the front door. What a bummer after such a long walk! I did a google search after we got back to the US and found that they had moved to a new location, in Trastevere to be more specific.
Luckily, we didn't have to walk back because we were able to catch a #40 bus back to Termini. We then went to the Colosseum to take some photos at dusk before heading back to the hotel and calling it a day.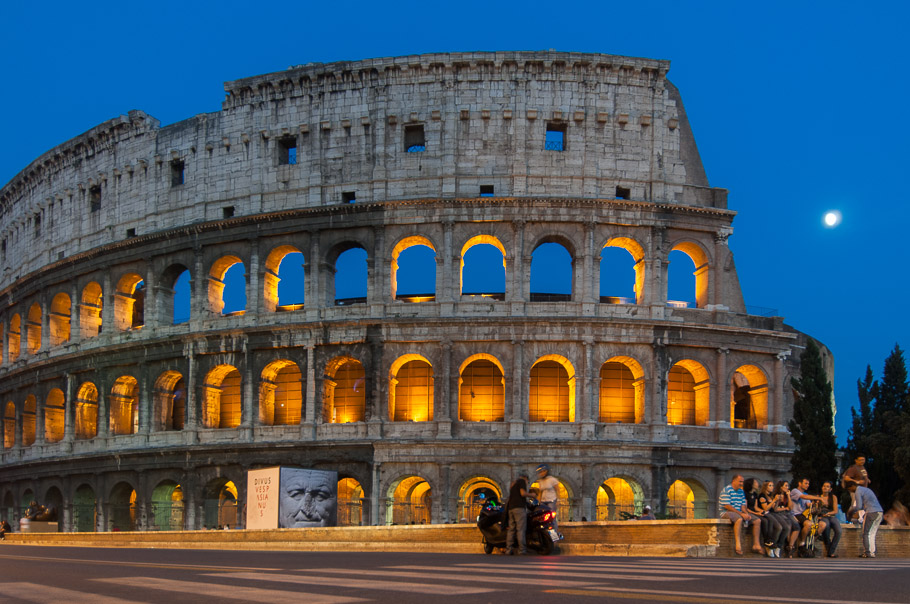 July 4 – Plane to DC
Last day of our trip—we were sad that it had finally come to an end. We had so much fun traveling and experiencing difference cultures during the trip. We will definitely be coming back to explore other places that we didn't get a chance to visit this time. Most likely we will try to visit during the spring or fall to avoid the crowds and heat, especially in Italy.
Anyway, our itinerary was a short flight to Munich and then a transatlantic flight back to DC. The flight to Munich was scheduled for a 13:00 departure. We had breakfast at the hotel and checked out at around 10:00. We then took a #40 bus (yeah, again!) from Largo Argentina to Termini. From Termini, we hopped on a Leonardo Express train that took us directly to the FCO airport in 30 minutes. One thing about the train—according to Rick Steves, Leonardo Express trains leave from platform 24. Maybe it was true in the past, but when we were there it was leaving from platform 25. OK you might say what's the big deal? Well, it was a big deal because platform 25 was probably a quarter of a mile down the train station. And when we were running with bags because the train was about to leave in two minutes, it was pretty rough.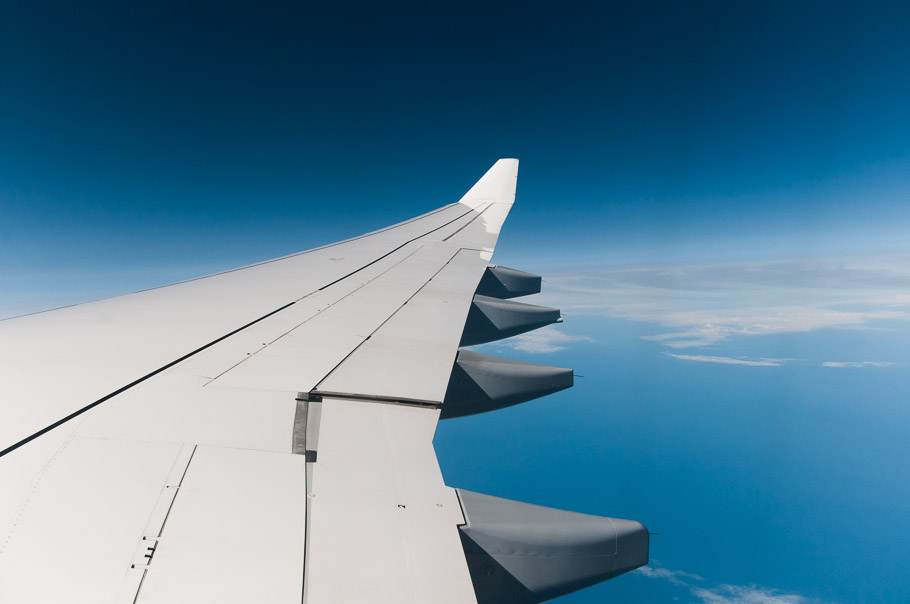 Anyway, we made it. Got to the airport in 30 minutes. Checked it, went through security, had lunch, etc. It was pretty smooth after that until we got on the plane. The takeoff was first delayed by 10 minutes. So I pulled out my iPhone and started watching Zack and Miri Make a Porno. (Pretty funny movie actually) The captain then made a second announcement saying that they had to delay the takeoff for another 40 minutes. I was like okay we might still make it in time for the next flight. But then when I almost reached the end of the movie, I started to think that we might not make it in time and have to spend a night Munich. The plane finally took off shortly after that thought. The captain probably flew the fastest he could. When we landed in Munich, we ran through the airport, got our passports checked for the second time, and finally got to the gate. The gate agents told us to chill because the plane had been waiting for a lot of people on the Rome-Munich flight. They then checked our passports for the third time. Seriously, they could have communicated that to the other flight so that we didn't have to run around like crazy people.
Anyway, we got on our flight. We found that our seat assignments were messed up. Fortunately, a lady was nice enough to swap her seat with me so that my wife and I could sit together. On the flight, they served two meals (or one? I forgot). I watched four movies and was interrupted many times but the public announcements. For some reasons, the first officer loved to update us in terms of the current location. For instance, we were flying above Amsterdam. He would activate the PA system, which paused the movie, and put on his tour guide hat for 5 minutes in 3-4 different languages. Overall the flight was really smooth. We flew Lufthansa and the plane (Airbus?) was almost brand new.