Cinque Terre, Italy
August 4, 2009
June 28 – Train Journey to Vernazza, Monterosso, Fried Calamari
After very little sleep on an overnight train from Switzerland, we arrived at Firenze Campo di Marte station in Firenze or Florence at around 6:30-7:00. The train we wanted to take to Vernazza was scheduled for a 7:27 departure but we didn't have tickets yet. Having not money at all, I was a quest to find an ATM. Normally every train station has at least one ATM machine. However, based on my observations, small stations in Italy don't have one. I first tried to ask a lady in cafe for directions but she gave me this WTF look and said something in Italian that my brain couldn't process. Luckily, the owner of the newsstand spoke English and told me I could find an ATM on the next block.
By that time, my next train to Vernazza was scheduled to arrive in 20 minutes so I ran to the ATM machine. That one block turned out to be a huge block. Got there, tried to withdraw €500 but the machine declined saying it exceeded the bank's limit. I was like Whao? because we were able to withdraw €500 twice in Paris without any issues. I then tried 400, 350, 300 and it still wouldn't let me withdraw. As time was pressing, right at that moment I was pretty pissed off at Italy for not giving me a warm welcome. Then for one last time I tried withdrawing €250 and it worked. Got the money, ran back to the station, bought tickets. The staff at the counter gave me another WTF look when I asked for tickets to Vernazza. He was like what Vernazza? A few seconds after he had collected his thoughts, he typed Vernazza into his tiny low-tech computer, pressed a few keys and boom! it dispensed two tickets. I should have clapped when that happened but didn't. Cost me €8 per ticket.
The train arrived a few minutes after we got the tickets. It was a regional/local train so no reservation was needed. The train was so packed when we got on but luckily we found a seat for two. The ride took over 3 melting hot hours. Driving would take about 2:15 minutes according to Google Maps. Again the train was so crowded, and as it went on its route more and more people got on. Eventually there were no seats left on the train and people started standing in the aisle, in front of restrooms, etc. Some people kept walking up and down the train to find seats. The train didn't have air conditioning, the windows were somehow locked, and people were sweating like they were water hoses. What wasn't pleasant about it was when somebody with an odor problem walked past, man… let me tell you, I just wanted to pass out because of the after smell and how long it lasted. Anyway, I'm not saying that's bad. It's just how the locals roll. Nevertheless, I loved the experience.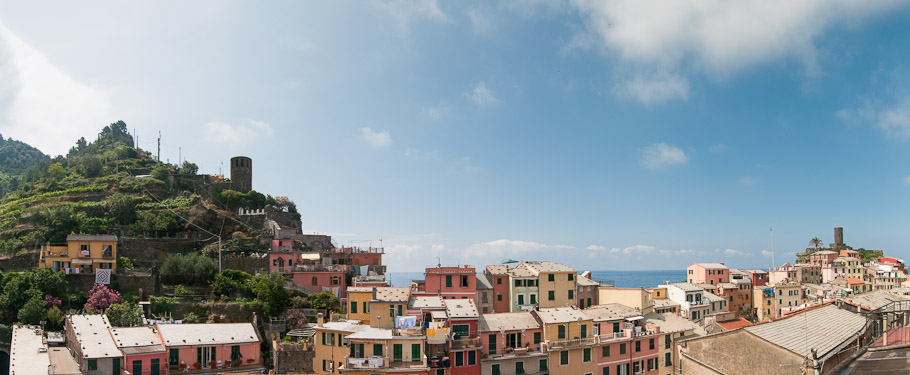 As I remember, Rick Steves says in his books that you know when you get to Vernazza when you can feel the cold wind blowing as the train exits the Cinque Terre train tunnel. Well, in my case there was no wind. I knew the train arrived in Vernazza when I saw a station sign through a small gap between standing people. Actually I kind of knew it was the station after Corniglia. Anyway, we got off the train and called our contact, Daria Bianchi, to have her lead us to the room we had already reserved. So we talked on the phone. I couldn't understand a word she said (not sure if she understood me) because the cell quality was so bad. I called her one more time and just said Bridge, Bridge, Bridge! and hung up. Basically I was trying to let her know that I was standing under the bridge (only one bridge in town). Five minutes later somebody showed up calling my name. It was David. No I didn't know him before but he said his name was David and Daria sent him to show us to our room.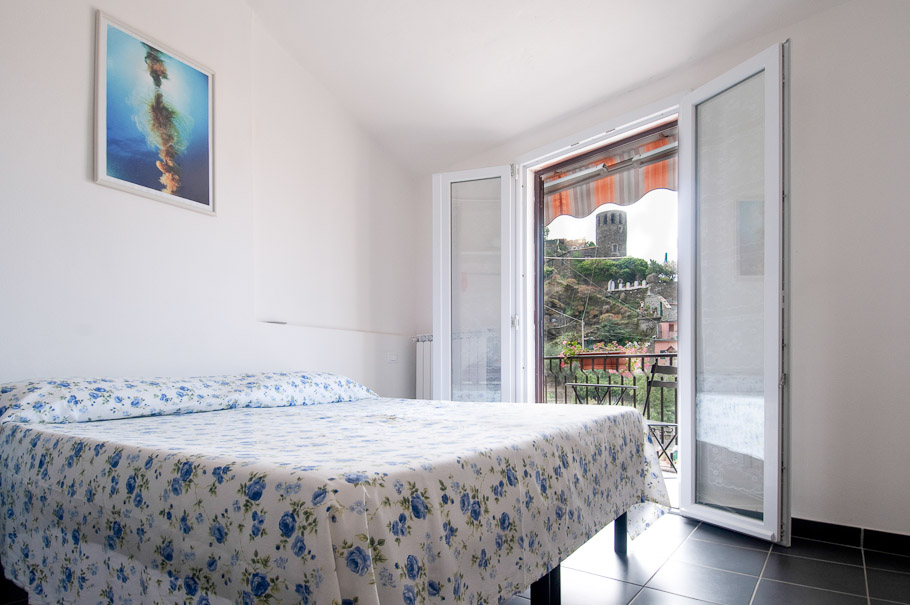 We started walking up the steps near the bridge (train station). After, I don't know … maybe, 7 minutes, we finally got to our room. It must have been over 200 steps. David told me that the room wasn't ready yet because I was too early but it would only take about 20 minutes before the maid finished the cleaning. We gladly said ok and waited on the balcony enjoying the morning of Vernazza. Before David left, he asked me if I wanted to pay for the room now or later. I politely told him tomorrow since I didn't have enough money because the ATM only gave me €250. I also asked what the total was. He said €95 per night for two nights. At the point, I was a bit shocked not because it was €95 per night but because it was 2 instead of 3 nights that I originally indicated when making the reservation. I quickly pulled up an email on my phone and showed him a confirmation from Daria stating 3 nights for €90 per night. He then made a quick call to Daria and she honored my reservation without any issues. I've heard from TripAdvisor and other travel sites that this kind of situation happens a lot. So make sure you have a copy of your reservation at the time of arrival and, if possible, call a day or two ahead of time to verbally confirm. In our case, we simply forgot to call because we were having so much fun strolling around Berner Oberland.
After the maid and David had left, we quickly showered and headed down to the main street for lunch. The main street at lunch time was like a zoo. There were tourists like us who stayed in Vernazza, those who stayed in the other towns, those who stopped by for a day on their cruise trips as well as locals from nearby cities. The Cinque Terre is like what Ocean City to the DC people I suppose. Anyway, we stopped by a take-out restaurant and got some pesto and salami focaccias before heading down the harbor where we sat down and enjoyed our lunch and cool sea breeze.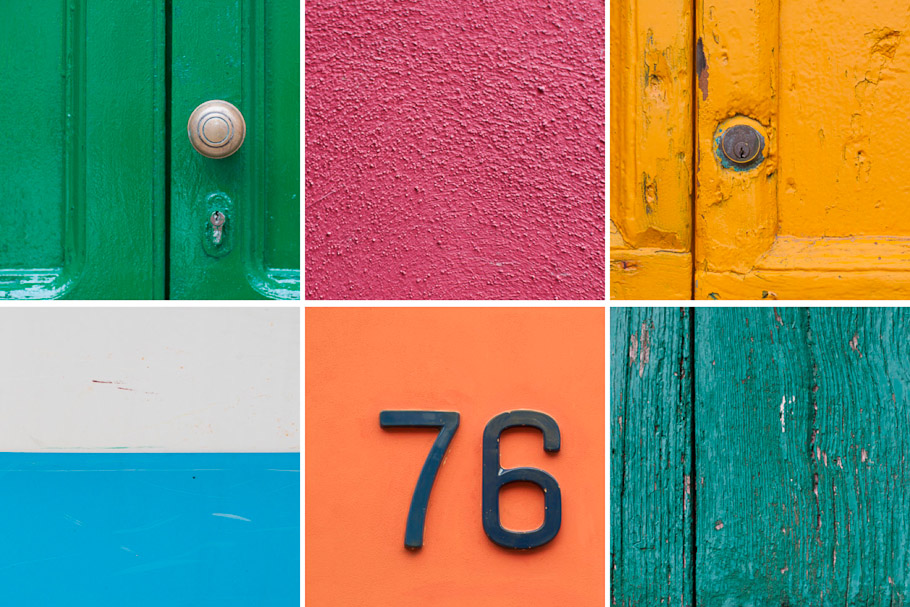 After enough food and sunburns, we headed back to the room for power naps. As it turned out, we passed out for almost 5 hours because he were so tired from the night before. What was funny was that while I was sleeping I kept hearing loud noises. Since we were right by the sea, I thought to myself that they were big waves crashing into the town. In my dream, the town was flooded and everything. I finally woke up at around 18:00 and found that those noises were trains passing by the station. Luckily, our room wasn't near the tracks. I couldn't imaging how loud the noises would be like if we stayed even closer than that.
Since it was almost dinner time, I woke my wife up and told her that we were going to walk to the next town for some seafood. She immediately got up and was so excited to go. However, I didn't tell her that we were going to hike to Monterosso, which was the longest trail of all. For an average hiker, it would probably take about 90 minutes. For us, since we stopped a lot take photos and hiked slowly, it took over two hours. The first 30 minutes or so were rough because it was all uphill. My wife had already run out of breath several times by the time we reached the end of the trail. Needless to say, the views from the trail were spectacular. Like the views along California Highway One but more uninhibited.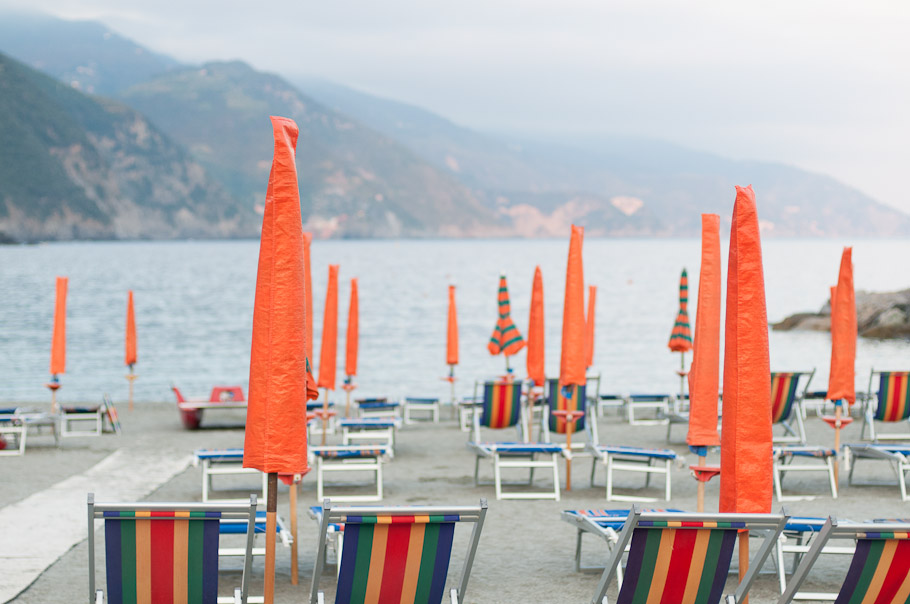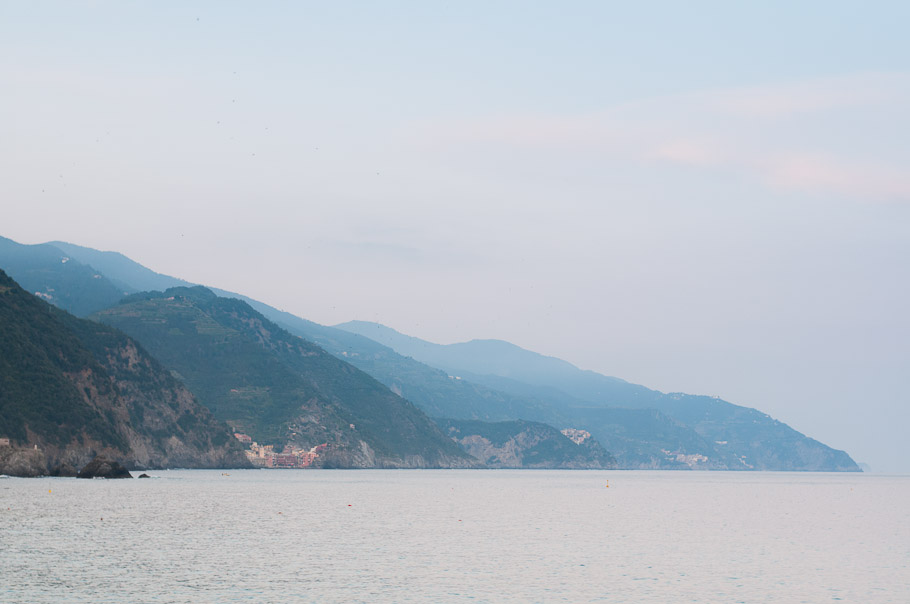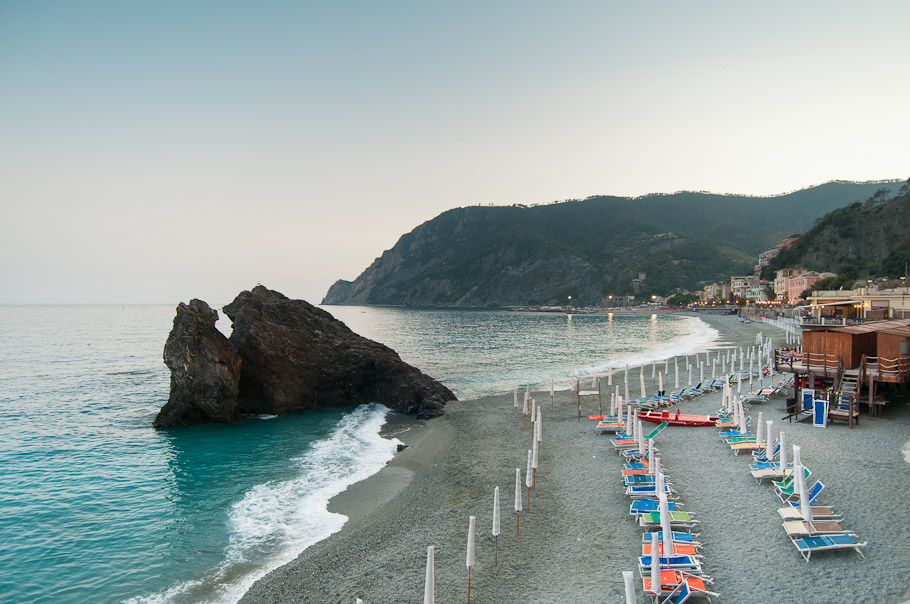 Monterosso is the last town heading north into the Cinque Terre. It is resort-town like, the most touristy and usually overrun by visitors in the summer. We walked around town for a bit before sitting down for dinner at one of the busiest restaurants in the newer part of the town. Took 10 minutes to get a table, sat down and ordered fried calamari and shrimp mousse lasagna or something. It was probably the freshest calamari I ever had. The shrimp mousse thingy was great too but the portion was a little small. Got the check and found that they charged us €2.50 for tap water and €3 for bread. I kinda of knew that beforehand but wanted to see how much they could nickel and dime tourists. Let's look on the bright side—after dinner we got some gelato from a nearby shop. A cone with two scoops cost about €1.50-2.
By the time we finished our gelato, it was almost 22:00 already. Before catching a train back to Vernazza, I had to get money again to pay for the room. I tried two ATM machines and both of them freaked out when I requested more than €250. So I took out €250 and rode a train back to Vernazza in rage.
Going to bed that night was easy as we were to tired. The noises from passing trains didn't bother us anymore because it was easy to get used to. Think of it as the sound of big waves crashing into the coast. By the way, the room didn't have an air conditioning unit, which could a problem to some people. For us, we opened the balcony door all night because the temperature was in the 60s.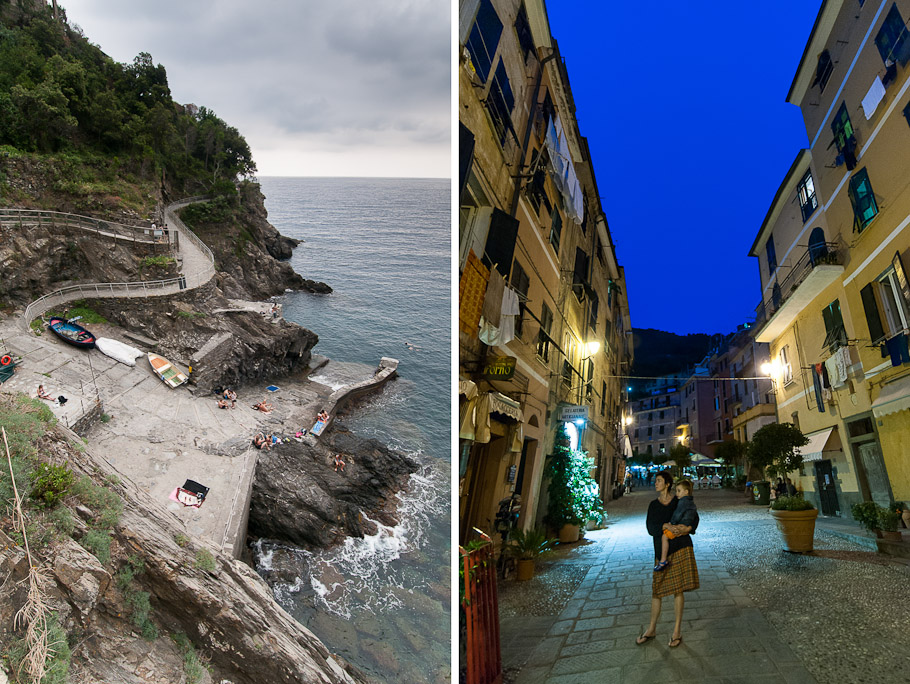 June 29 – All Day Hiking: Riomaggiore, Manarola, Corniglia, Vernazza
We slept in and woke up at 10:00. It was probably the best sleep we ever had on the trip because we didn't set the alarm clock. While my wife was still sleeping, I headed down to the main street. The weather was so nice; temperature was in the 70s. I bought some croissants, water and juice, went back up to the room, and had breakfast on the balcony overlooking the town. Then after cold showers, we headed to the station and took a train to Riomaggiore.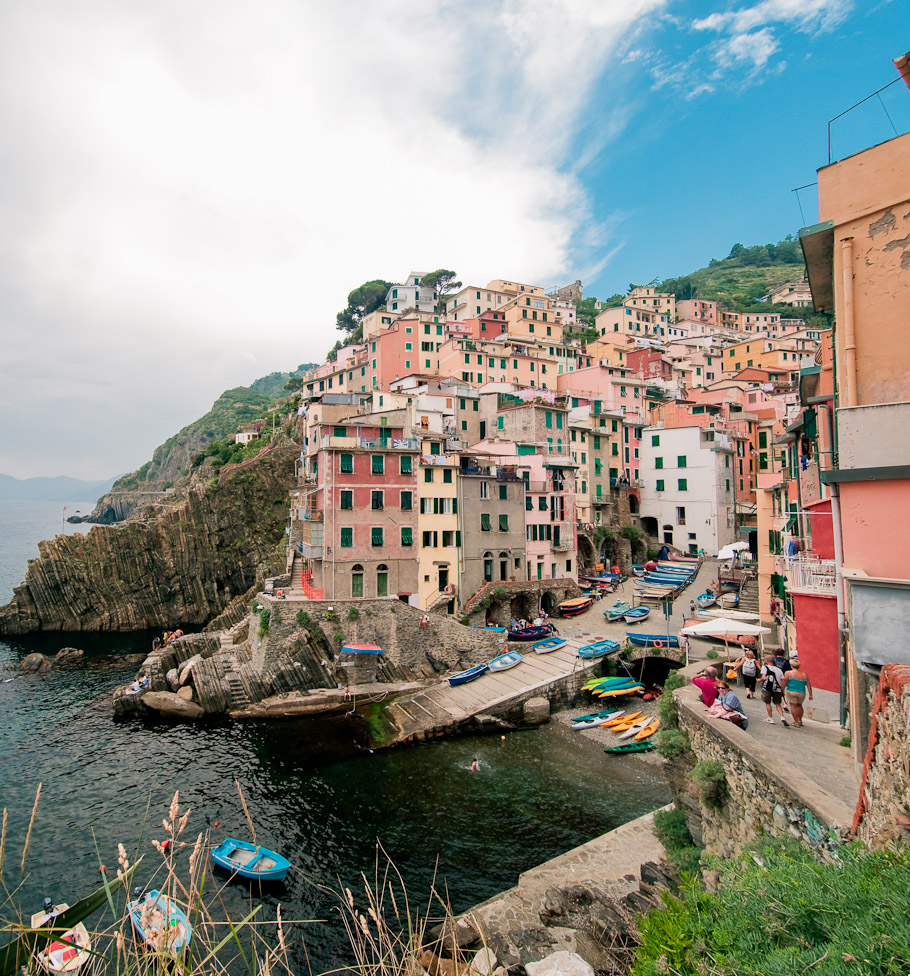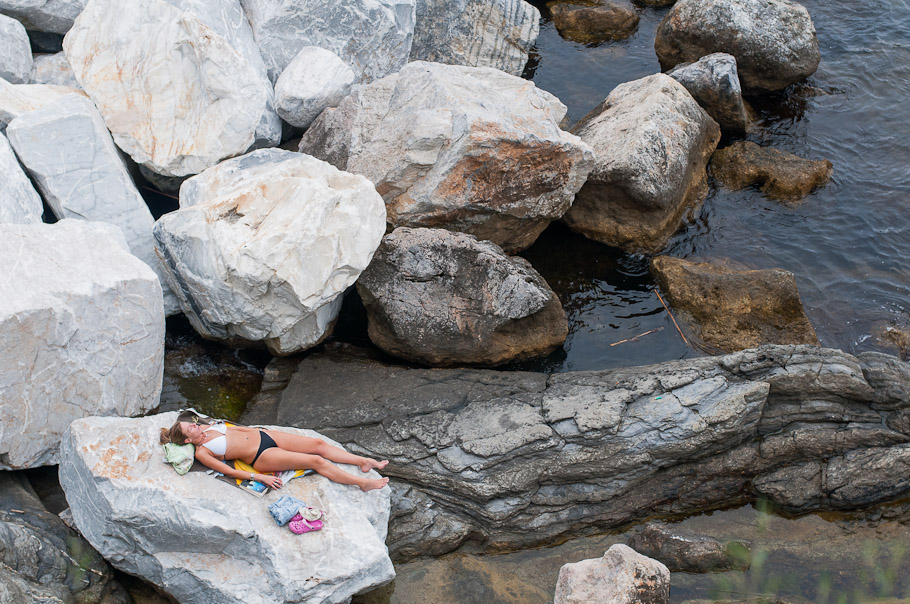 Riomaggiore is the first town if you enter the Cinque Terre from the south. We got off the train and walked through the tunnel along the train tracks to the other side of town where the marina was located. Every town in the Cinque Terre has a marina for people to keep theirs boats. It's also where most people sunbathe and jump into the sea. After he had checked out Riomaggiore's marina, we walked back to the main street for lunch. We got some spaghetti carbonara and focaccia takeouts and sat down on a bench next to a few local grannies who were just having a chitchat.
We went back to the train station part of the town to hike to Manarola after finishing lunch and having our daily dose of gelato. The Via dell'Amore hike from Riomaggiore to Manarola is the easiest hike in the Cinque Terre. It's more like a walk in my opinion. The path is wide and nicely paved. For an average person, it should take no longer than 25 minutes to reach Manarola unless you stop in the tunnel in the middle of the path and show your artistic skills. There is also a restaurant/cafe towards the end of the trail. We wished we had stopped there for some gelato instead of getting it before entering the trail.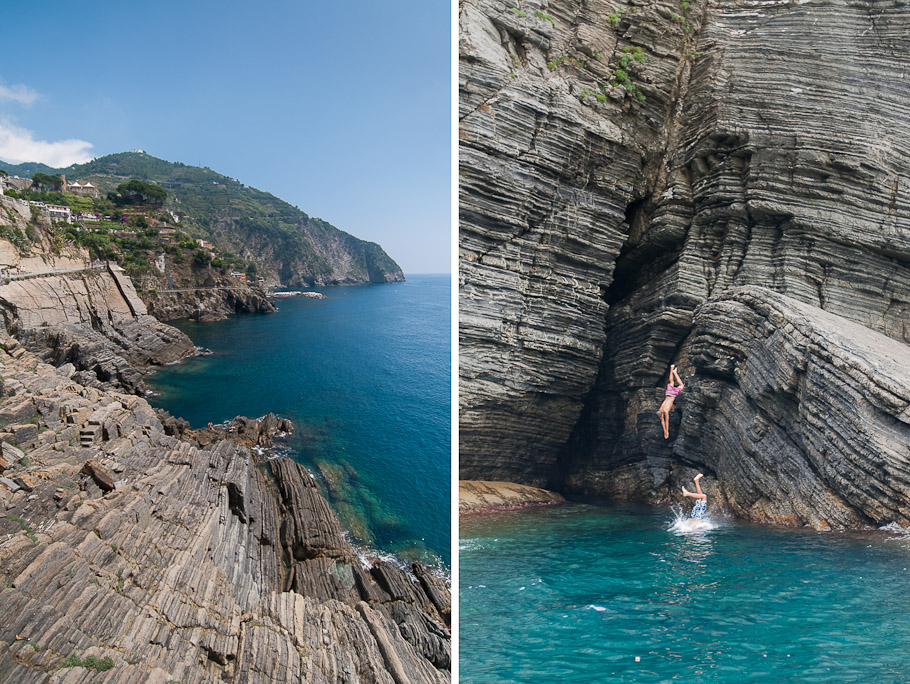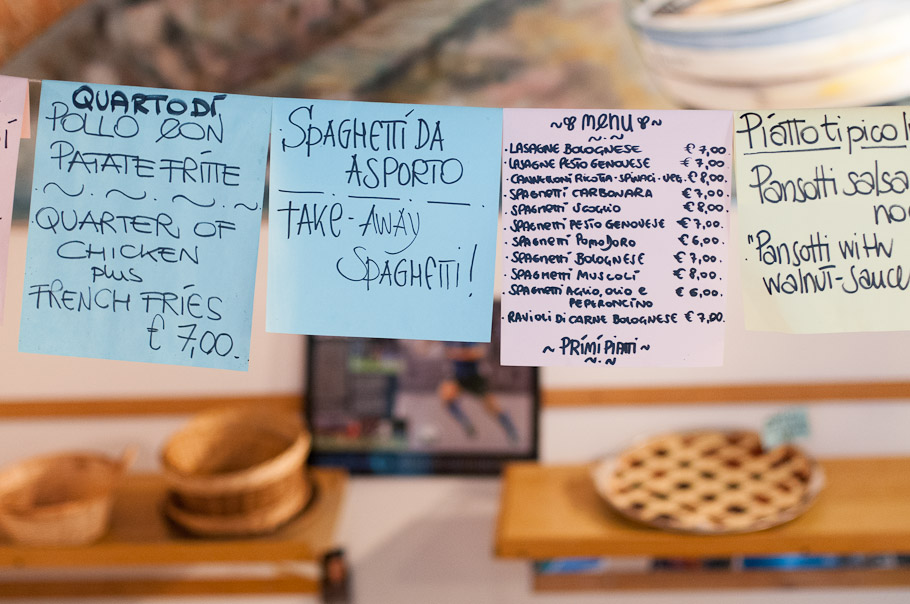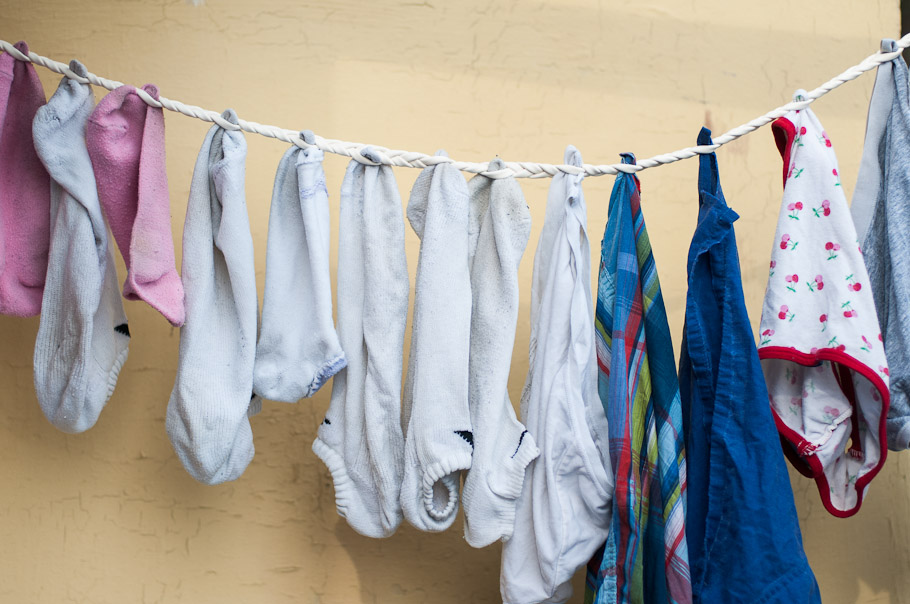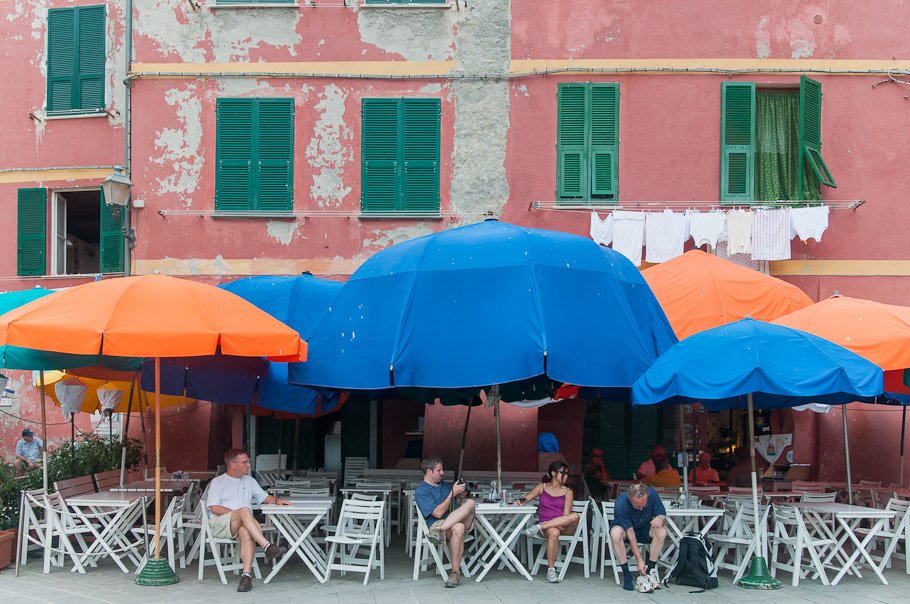 We got to Manarola in no time. Manarola is a cute little town; probably half the size of Riomaggiore. We walked around a little and spotted a restaurant that we thought we would come on the next day. To get to the trail to the next town, Corniglia, we had to walk through the town passing the marina. The Manarola-Corniglia path was more hiking trail-like as it wasn't paved and had a lot of ups and downs. It took us about 45 minutes to get the train station which was about 300 ft below the town. We decided to take a transit bus by the train station into town rather than climbing about 300+ steps from the hiking trail. Corniglia was really quiet when we got there, which told me if we wanted to stay in a more peaceful and less touristy town we would have to stay in Corniglia. We spent some time having coffee and snacks in the town's little square. While my wife was waiting near the square, I attempted to walk down the marina (has to be 400+ ft below the town) but gave up half way because I couldn't imagine myself walking back up.
We took a little green bus back to the train station and headed back to Vernazza. As it was around dinner time, we thought we should get a takeout and sit by the marina. Our dinner was pesto pasta with pesto sauce and spaghetti pomodoro. Enjoying our dinner while watching people pulling their boats in and local fishermen getting ready to go out was probably my most favorite part of the day. I loved the feeling of being out all day and coming back to the home base for a relaxing dinner.
After dinner, we went back to our room. While my wife was getting stuff done in the room, just before sunset, I headed up the Vernazza-Monterosso trail to a spot where I took a photo of Vernazza at dusk.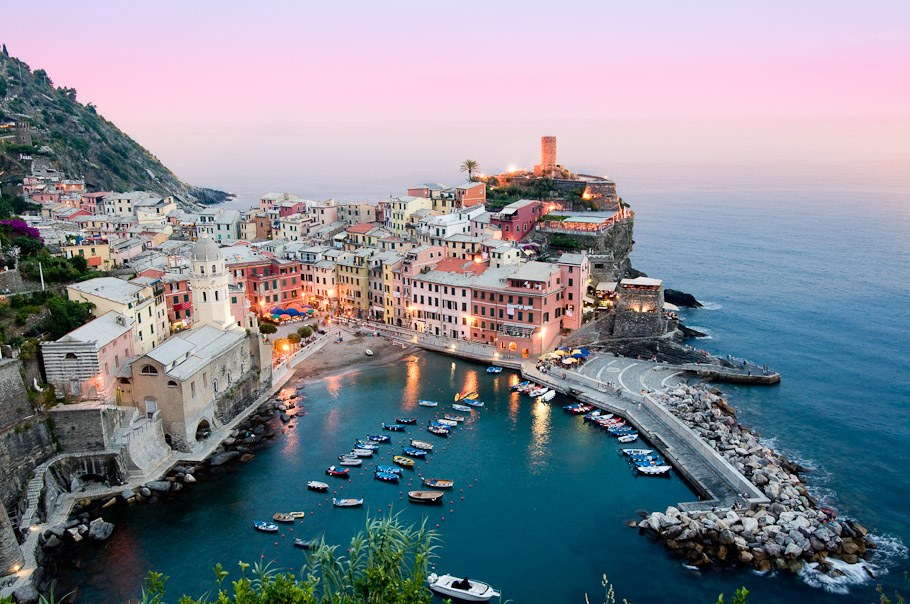 June 30 – More Hiking, Lobster and Mussel Pasta, Monterosso Beach
We slept in again. It was great not having to set an alarm. We pretty much rolled out of bed when we felt it was a good time to get up. Showered, and headed down to the train station. We took a train to Manarola and had lunch at a restaurant in the area that we had picked on the previous day. My wife ordered lobster pasta and I ordered mussel pasta. The food came and we found that the portion as a lot bigger than we thought. The mussels on my pasta were probably 2-3 times bigger than what I'd had in the US. My wife's plate came with a whole lobster sitting on top of her pasta with some kind of garlic creme source. It was a really good meal. However, when we got the check there was €4 item again even he had asked them not to bring out the bread. We were quite surprised when the waitress told us that the charge was for the utensils and everything else on the table. Not sure that was normal or they tried to nickel and dime tourists for everything they could. Share your experience.
After lunch, we hiked to Riomaggiore for exercise and some gelato. While we were walking on the path, we saw a guy jumped over the handrail/fence to the rocky edge of the trail and cliff-dived 150-200 ft into the water. That was pretty awesome but unfortunately I wasn't fast enough to capture the action on the camera. In Riomaggiore, we took a different route to the marina. Instead of walking through the tunnel, taking the trail along the coast gave us more exercise as the path was longer and made us go up and down a lot of steps.
We chilled at Riomaggiore's marina for a bit before taking a ferry straight to Monterosso. The hourly ferry ride costs €8 per person. That's a bit expensive considering a train ride, which comes more frequently, is faster, Â and only costs €1 something. Anyway, we thought of it as a sightseeing tour ferry. The ride allowed us to see how big each town was from a distance. From a quick visual comparison, Monterosso seems to be the largest; then Riomaggiore, Vernazza, Manarola, and Corniglia. In certain angles, Corniglia may appear larger because the whole town is sitting on a huge rock. The ferry ride stopped at every town except Corniglia. I wondered why but didn't care enough to ask the boat crews.
The whole reason we came to Monterosso was swim in the sea and enjoy the beach. However, by the time we got to Monterosso it was almost 17:30. The ferry dropped us off at the old part of the town. It took us another 10-15 minutes to walk to the new part where the beach was bigger. The beach that you see is sectioned into smaller private beaches. The first "beach vendor" that we asked "How much?" gave us a furious look and said PRIVATE BEACH! I wasn't sure if he didn't understand what we asked or he was just pissed at the world. We moved on, asked another vendor adjacent to the first one and were given an "I don't care" look. The next vendor gave us the answer we had been searching for. They said their beach would be closed by 19:00 and wanted to charge €10 per person! We walked away without any hesitation. Then we came across a public beach. What told us it was a public beach was 1) it was the tiniest section on the stretch. 2) it was packed! 3) the sand quality was noticeably different because the private beaches probably dumped all the rocks and stones there. Anyway, luckily, a vendor next to the public beach gave a special price since they would be closing in about an hour;Â €6 for two beach chairs, an umbrella, and two fresh water shower coupons. We took the offer and jumped into the water.
It was freezing cold! Well, at first anyway. I didn't expect it to be that cold since it had been sunny all day and at that time the temperature was still in the high 70s or low 80s. It took a few minutes before the body got used the water temperature. Also, the private beaches had probably been dumping rocks in the sea as well because my feet couldn't feel anything but rocks when I tried to touch the ground.
We started packing up as they closed the beach. The train station was full of people leaving Monterosso. We wanted to take showers and get changed back in our room before having dinner. We got on a wrong train heading to the south without a stop in Vernazza. Luckily, it stopped in Riomaggiore where we got off and caught another local train back to Vernazza. After taking care of our business, we headed down to the main street in our home base and got a pizza takeout. We went to sit by the marina to eat. It was by far our favorite spot to hang out and enjoy everything Cinque Terre.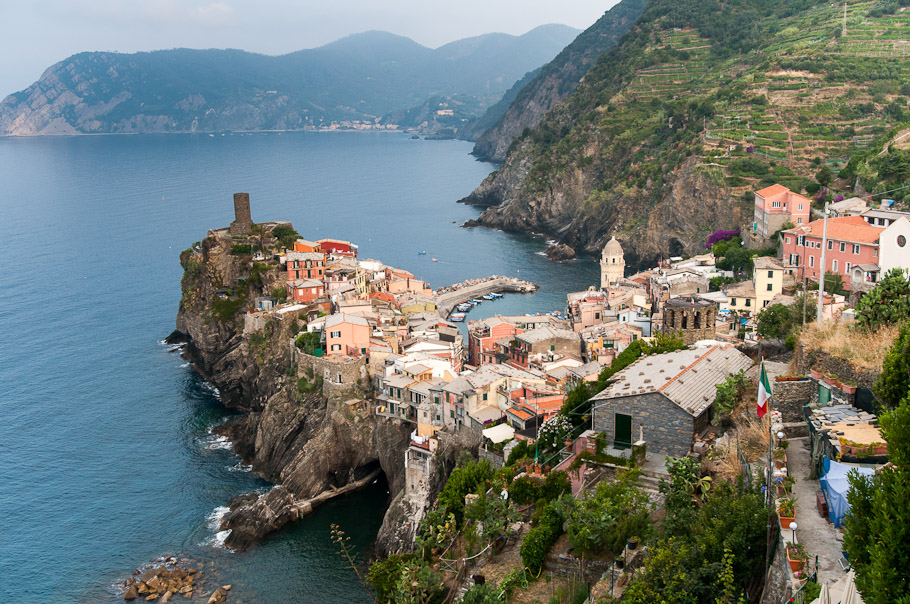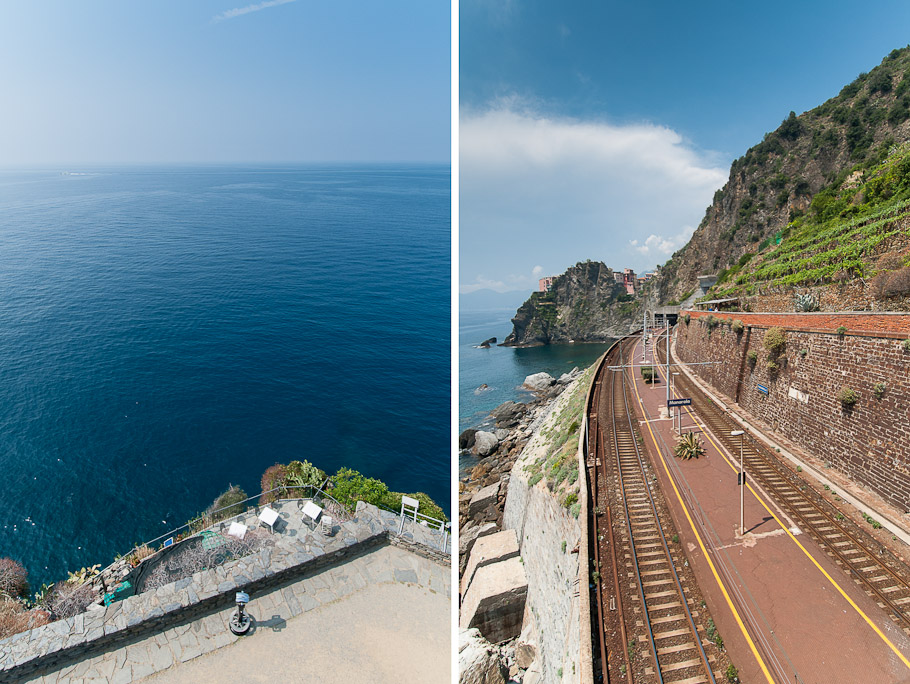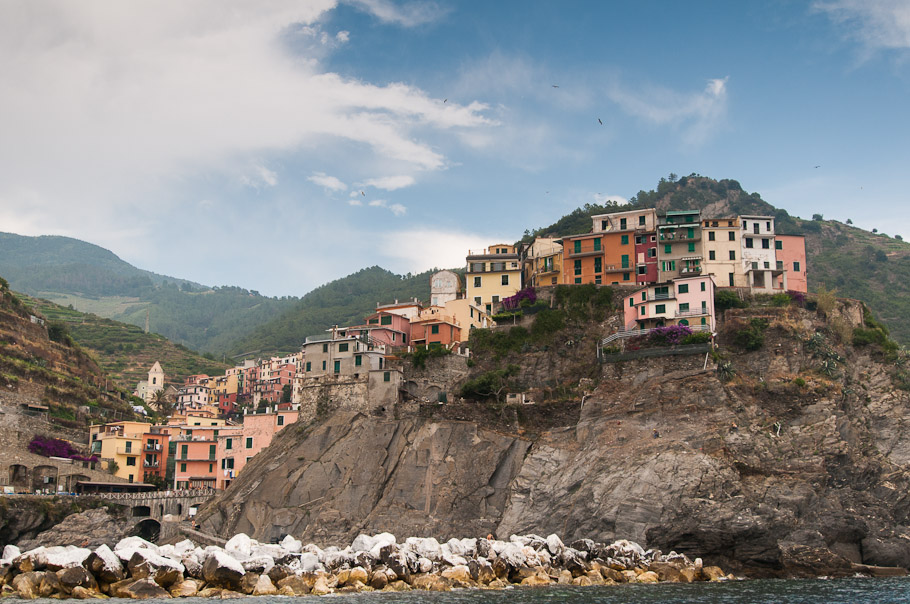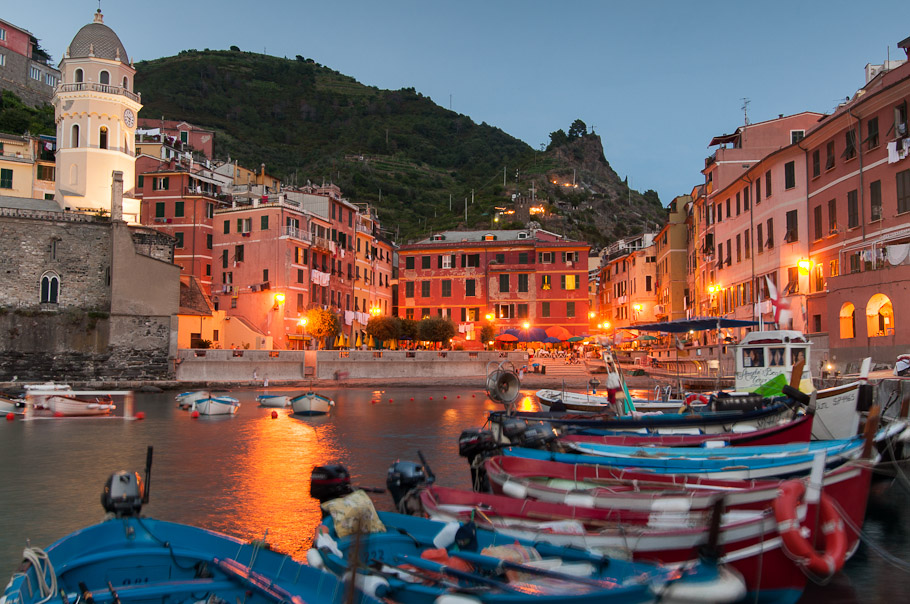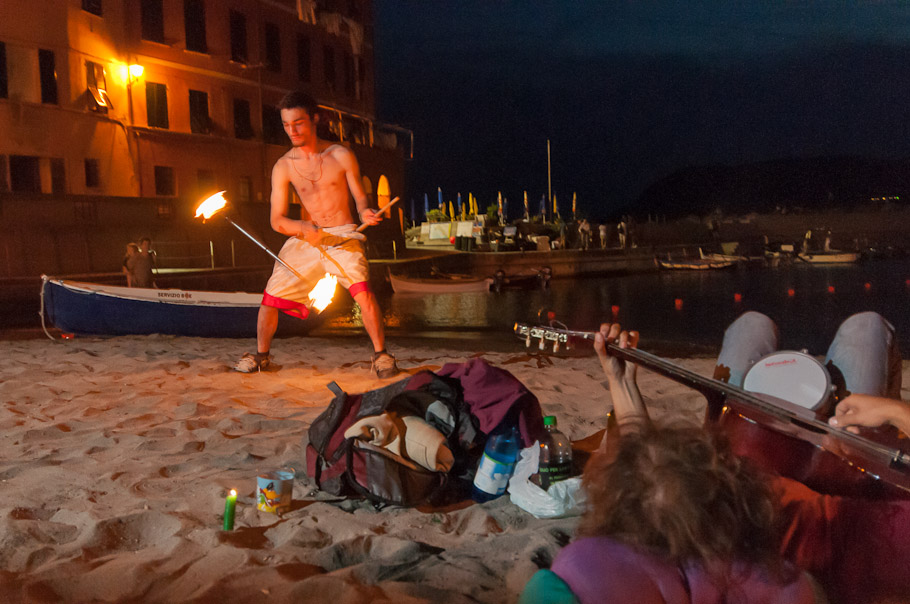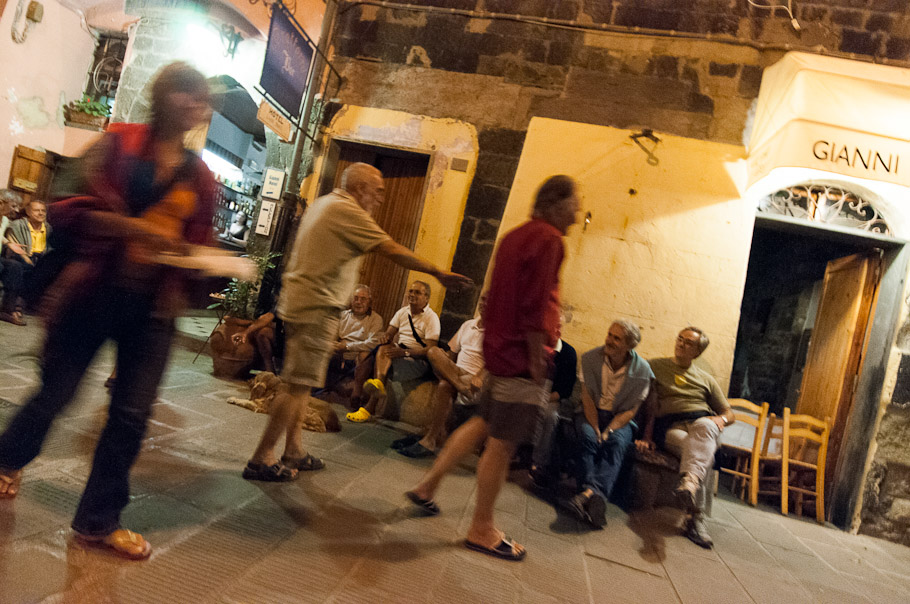 July 1 – Hectic Day
We knew it was going to be a rough day because when we tried to buy tickets to Rome (via Pisa) on the previous day but the staff at the train station told us there was a train-related accident around the Pisa area and all trains were cancelled. We were simply told to come back in the morning and check. According to many experienced visitors, check back tomorrow's and maybes mean negative. So we showed up at 7:30, tried to get our tickets but the staff said he could only get us to La Spezia. We went ahead and buy the tickets because there was nothing better we could do than trying to wing it. We waited for almost an hour for the train to La Spezia. The ride took about 40 minutes, and when we got to La Spezia we found that there were long lines at the ticketing counters as well as the information booth. Luckily, somebody told us that there was a special bus leaving every hour to Pisa from a street near the station. So we just followed a few people on the same boat to the bus. We were lucky enough to be the last two people to get on that bus.
Honestly I was kind of glad that there were quite a number of people in the same situation. The bus ride to Pisa was supposed to take about an hour. However, the bus driver got lost a few times in Pisa while trying to find Pisa Centrale train station. An american tourist had to pull out a GPS navigator and helped the driver with directions. Finally we arrived at Pisa Centrale and it was totally insane. The lines were huge. People were walking and running around in confusion. While I was standing in line to get tickets from an automated machine, I found out that the trains to Rome up on the giant billboard were all cancelled. At that point, I started to feel that there might be a possibly that it might not be able to get to Rome that night (by train at least). We walked over to the information counter and asked for advice. A member of the staff told us that there was a train leaving in two minutes to a small town and from there we could take another train to another town and one more to Rome. Although he was really nice but his advice was simply useless for us because we didn't have tickets yet and the ticket lines were really long.
Fortunately, we met an American couple who told us that they were going to Rome as well and just exchanged their old tickets for new ones that would take them to Rome via Firenze instead of the cancelled direct route. We went ahead and lined up at one of the automated machines (in line for 30 minutes) and bought the same exact tickets. At the point, our original plan of spending a few hours checking out the leaning tower of Pisa and the area just disappeared in the air. In any case, we were glad we had valid tickets to our final destination.
The train from Pisa to Firenze was again super packed. My wife and I had to split up and sit separately. A few things happened on the train. The conductors were seriously checking tickets and fining people who didn't validate their tickets in one of those yellow machines at the originating stations. The guy next to me was fined €20 (for two tickets) for not validating them. A man in the back of our train we handcuffed and removed from the car by the train controller. I wasn't sure if he didn't have a valid ticket or because of something else. I tried to asked the Italian lady across from me but she kept speaking back in Italian. The guy next to me tried to translate it in spanish as well I guess? Anyway, the ride took two hours but felt like eight.
At the Firenze main station, we found that our train to Rome was delayed for 15-20 minutes. Very normal in Italy. It finally arrived and we quickly walked to the assigned car, which was the farthest one on the platform. We got on and found ourselves sitting next to an old couple who kept looking at us every 5 minutes. It was freaky but couldn't care less because our train was a EuroStar Italia train meaning it was the best train you could possibly ride in Italy. The ride took two hours and we were glad to finally arrive in Rome.